Artist Feature - Happy Release Day Luna Blue - "Look At Me" is OUT NOW
Posted on
Happy Release Day Luna Blue - "Look At Me" is OUT NOW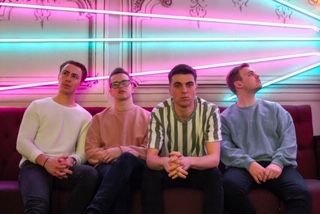 Eximo is proud to have half of Brighton 4-piece indie rock band Luna Blue teach vocals and piano for the company. These teachers are true superstars pursiung their own musical dreams and ambitions.
Luna Blue storm into the new decade with shimmering track Look At Me, released 28th February and we want to with them a happy release day!
Look At Me - which exemplifies Luna Blue's sparkling, hooky and energetic signature sound - is the first of three new tracks written by the band and due for release this spring.
Do check out their new track here:
STREAM the LOOK AT ME track @ https://bitlylink.com/Look-At-Me
Watch the LOOK AT ME video
https://sptfy.com/20Oc/ www.lunablueofficial.com

www.facebook.com/weareLunaBlue
https://www.instagram.com/lunablueofficial/
www.youtube.com/c/lunablueofficial
https://twitter.com/Lunablueofficia
Photo Credit: Indy Brewer
singing lessons, success , music success , successful producer , music industry , vocals , vocal lessons , brighton , hove , sussex , music lessons brighton , singing lessons brighton , piano lessons brighton , piano lessons for children brighton , piano lessons for children in hove , eximo , eximouk , piano lessons brighton , singing teacher brighton , piano lessons hove , piano princess princess , kids parties , children's entertainment , become a successful singer , become famous , bimm , brighton institut for modern music , study music , music courses brighton , music degree brighton , singing degree brighton , piano lesson prices , piano teacher hove , singing lessons brighton and hove , singing lesson prices , piano lessons for teenagers , community centre piano lessons , piano for adults , maya wolff , how to teach singing , how to become a singer , how to play piano , piano tutorials , online piano lessons , online piano tutorials , piano lesson cost, piano teaching , piano teacher , fresher's flu , brighton uni , brighton university , brighton fresher's , ekladata.com piano pdf , eximo, eximouk , dance monkey piano sheet music free , dance monkey chords piano, partition piano dance monkey gratuit , christmas carols pdf , dance monkey piano sheet free , fitness , Brighton map , map of Brighton , Brighton music school , bimm , success , secret to success , secrets to being a successful artist , dance monkey piano sheet music free , eximo uk , ekladata.com piano pdf , partition piano dance monkey gratuit , dance monkey piano pdf , dance monkey chords piano , dance monkey piano sheet music pdf , dance monkey piano chords , number 1 music blog , best music blog , how to become a successful musician , how to play dance monkey on piano letters , weight lifting , benefits of weight lifting , how weight lifting makes you more successful , how to be successful , free tools for a successful life , free self improvement plan download , dance monkey piano chords easy , luna blue , tom high , Tom High (vocals), Nick Davie (bass guitar), Seb Bowen (drums), Ryan Wellman (lead guitar) , BBC Introducing Live Lounge , LUNA BLUE /// INDIE ROCK BRIGHTON , Melita Dennett (BBC Introducing) , Lucy & Yak , Award-nominated Matthew Parisi , Brighton's Komedia Centre , Komedia Centre Brighton , Indie Band Brighton