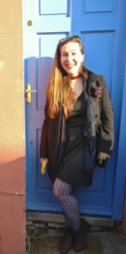 Sara was born in Prague where she started playing piano at the age of 5. It was love at first sight. With the support of her brilliant teacher, she competed at both local and international competitions and earned fourth and fifth place at a European competition Amadeus at the age of 11 and placed third in Prague competitions multiple years in a row.
Moving to Britain at the age of 16, she was lucky enough to work with Renna Kellaway, a professor from the Royal Scottish Conservatoire. Under her tutelage she won first place at the Mary Wakefield Westmoreland Festival and was subsequently nominated for the Jim Noble prize.
Sara began teaching during her undergraduate studies at the University of Glasgow. She worked both with primary school aged children and with university students. As she was exposed to both Central European and Western styles of teaching, she's able to transfer versatile styles of teaching to students.
Piano teaching is by far her favourite kind of work, working closely with the students; watching their progress, helping them play their favourite pieces and improving their technique.
Sara joined Eximo in 2018 and has been an invaluable asset to the company teaching children, teens and adults who had impecable Grade results with her and always give very positive feedback about her lessons.